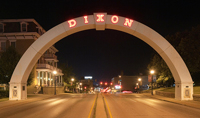 --Dixon IL--
-Machine Shop Service-
The Online Machine Shop is a QUALITY ORGANIZATION that is set up on PROBLEM SOLVING to PROVIDE SOLUTIONS for our customers. We have the quality control and experience to do CUSTOM METAL MACHINING; to plan or build JIGS & FIXTURES; to design or assmmeble PROTOTYPES; to REPAIR, REBUILD, OR REMANUFACTURE most anything; to analyze and improve your WORKFLOW; and much more. Our passions are --You dream it, we want to build it--You break it, we want to fix it--It won't run right for you, we find the glitch and fix it. We want to make machines run better than ever before!
Uncle Davie's Machine Shop provides MACHINE SHOP SERVICES for the following locations:
Dixon, Amboy, Ashton, Compton, Franklin Grove, Harmon, Lee, Nelson, Paw Paw, Steward, Sublette, & West Brooklyn
With FREE PICKUP and DELIVERY of 500 LBS or less within 50 miles of Sterling Il.
 --DISCOVER Our SERVICE PAGES--
OR
Get your **FREE QUOTE**